Spring 2021 Commencement Canvas Module
Congratulations, Graduates! This Canvas guide to Commencement will provide you with information regarding the upcoming Spring 2021 Commencement ceremonies at Camp Randall stadium on Saturday, May 8 at Noon and 4pm. The following information reflects the actual materials found in the Canvas module course. Graduates must successfully complete this course via Canvas to receive their ticket for the Commencement ceremony. Reviewing this material online will not result in ticket being issued. This published guide is for planning and informational purposes only. 
Part 1: Commencement Details
Ceremony Details
Saturday, May 8, Noon 
Bachelor's Degree Candidate Ceremony

Keynote speaker: UW alumnus and Broadway star 

André De Shields

Green Badger Badge Enforcement Area Begins at 10:00 a.m.

Ticketed Gate Entry to Camp Randall Begins at 10:30 a.m. 

Ceremony is expected to last approximately one hour 
Saturday, May 8, 4 p.m. 
Graduate Degree Candidate Ceremony (including Doctoral, Law, Medical, Professional, and Master's Degree Candidates)

Keynote speaker and Honorary Degree Recipient: groundbreaking psychologist 

John Gottman, PhD

Green Badger Badge Enforcement Area Begins at 2:30 p.m.

Ticketed Gate Entry to Camp Randall Begins at 3:00 p.m. 

Ceremony is expected to last approximately one hour
COVID-19 Testing and Vaccination Documentation Process
You will need to provide appropriate health records that show you have been fully vaccinated or have a current negative test for COVID-19 to participate.
University Health Services will have professional staff at Camp Randall Stadium trained to review protected health information, at a designated gate entrance, to review documentation in a HIPAA compliant manner. The documents can be in printed or electronic (mobile friendly) form.
You will be denied entry into the commencement ceremony if you do not provide the appropriate documentation. Please bring one of the following documents:
Negative PCR Test: A negative PCR test collected on or after the dates below:

Undergraduate Students: Wednesday, May 5, 2021
Graduate/Professional Students: Sunday, May 2, 2021
Please note that proof of a negative COVID-19 antigen test will not be accepted

Completed Vaccination: Proof of receiving the final dose in a vaccine series on or before Saturday, April 24, 2021:

Single dose Johnson and Johnson OR
Final dose of two dose Pfizer or Moderna OR
Final dose of internationally approved vaccine OR
Final dose of trial vaccines administered in the United States.

Previous Positive Exemption: Proof of previous positive COVID infection on or after Monday, February 8, 2021 and before Wednesday, April 28th (not in current isolation):

Positive PCR test OR
Positive Antigen Test OR
An Isolation Letter issued by a health department, contact tracer, or medical provider.
Can I receive a test on Campus?
On-campus testing facilities are only available to currently enrolled students, staff and faculty for testing. The Alliant Energy Center does have a testing facility that offers free testing. For more information please visit: https://publichealthmdc.com/coronavirus/testing#alliant
At Camp Randall
Graduates must follow the Carry In Policy
All graduates will have the opportunity to have their graduate portrait taken by Empire Photography prior to entering the ticketed stadium area. Class of 2021 facemask, as a keepsake for graduates, will be available for photo opportunities.
Tickets
Graduates will be assigned staggered arrival time based on where their assigned ticket location is. These arrival times are established to ensure a safe and steady flow of graduate arrivals so that physical distancing can be maintained at all times. Please follow the instructions associated with your ticket in regards to the arrival time, and gate assignment.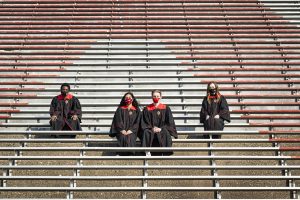 Tickets will be issued once a graduate has completed all parts of the Canvas module. Graduates can request seating in groups of up to 4, and can sit with roommate(s) or housemate(s). One graduate should complete the ticket request form on behalf of those that are being seated together. No groups larger than 4 can request tickets together due to physical spacing requirements. Graduates will not be seated by school, college, degree type or major.
Tickets will be electronic and sent to the email provided in the ticket request form. If you sign up for more than one ticket, each student must have a campus ID and email indicated so that everyone receives their own ticket. Any student who has not completed the Canvas module will not receive a ticket. Screenshots of tickets will not be permitted. One ticket per graduate is required for participation at Camp Randall.  
Mobile tickets will be scanned at the gates to Camp Randall. Graduates must display their individual ticket in order to access the seating area. 
Graduates will receive a bottle of water, individual sized bottle of hand sanitizer and a Class of 2021 rally towel once their ticket is scanned. 
If you need accommodations or special seating assistance, please contact commence@chancellor.wisc.edu for assistance.
Diploma & Diploma Cover
Your Diploma and Diploma Cover will be mailed out after grades are entered by school and college, typically 6-8 weeks after finals are completed. Please check the address listed as your home address, or provide a Diploma Address in your MyUW Student Center.
Part 3: Commencement Expectations
Graduates must read through these expectations before registering for tickets. Your registration for tickets is your acknowledgement of these expectations.
As an in-person graduate at the Spring 2021 Commencement Ceremony, I agree to the following set of participant expectations:
I will comply with the campus requirement to receive a green Badger Badge through:

Following the testing protocols as they have been provided to me.
Documenting vaccination status through MyUHS within the required deadlines.

I understand that if my Badger Badge is green, I will be able to participate in the ceremony. If my Badger Badge is not green I cannot participate in the ceremony. There will be no exceptions.
I understand that family members and guests are not allowed inside the Green Badger Badge Zone at Camp Randall.
I agree to wear a well-fitting face mask. If I decide to take off my mask at any time while in the Green Badger Badge Zone, or during the ceremony, I understand that I may be asked to put it back on, and if I do not comply, that I may be asked to leave the ceremony and not be allowed to return.
I agree to maintain 6 feet of physical distance between myself and others that I am not seated with during the ceremony. I understand that if I move to another seat location I may be asked to return to my ticketed seat location, or I could be asked to leave the ceremony and not be allowed to return.
I agree to abide by the Camp Randall Carry-in Policy.
If you have already registered for tickets and have a question, revision, or problem with your ticket(s) please contact the Athletic Ticket Office at tickets@athletics.wisc.edu.
If you have NOT registered for a ticket yet, please contact the Commencement Office at commence@chancellor.wisc.edu for ticket information.