Spring 2021 graduates will celebrate in-person on Saturday, May 8, 2021
Watch the video and read the announcement to learn more. Read about our amazing speakers and see below for ceremony details.
Saturday, May 8, Noon 
Bachelor's Degree Candidate Ceremony
Keynote speaker: UW alumnus and Broadway star André De Shields
Saturday, May 8, 4 p.m. 
Graduate Degree Candidate Ceremony (including Doctoral, Law, Medical, Professional, and Master's Degree Candidates)
Keynote speaker and Honorary Degree Recipient: groundbreaking psychologist John Gottman, PhD
Visit our Frequently Asked Questions for more information.
Sign up for Ceremony Updates
Subscribe to receive emails about the ceremony, including late-breaking changes or weather announcements. Students who have applied to graduate with the intention of attending the commencement ceremony will automatically receive updates.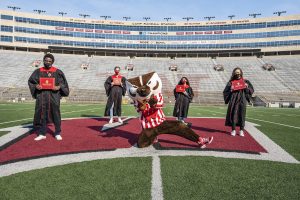 APPLY TO GRADUATE
The deadline to Apply to Graduate in Spring, 2021 is April 9. Applying to graduate by the deadline ensures that your name will be included in the official Commencement Program.  Students who apply to graduate after the deadline will not see their name in the printed program.
Visit the student center's instruction page for detailed instructions on how to apply to graduate.  Master's and PhD students can find additional information on the Graduate School's "completing your degree" webpage.
Download a PDF of the graduate checklist to prepare for graduation.
REQUEST A PRINTED PROGRAM
The Spring 2021 Commencement Program will be printed and mailed using this request form. Quantity requests are limited to 10 per person. In order to limit the amount of distributed materials at our physically distanced event, we will not be distributing programs in-person. Requests for printed programs should be submitted by Sunday, May 9 and programs will be mailed in mid to late June.
GET YOUR DIPLOMA
To ensure timely delivery of your diploma, provide/verify your "Diploma" address in the MyUW Student Center. Directions for updating your diploma address are available at: https://kb.wisc.edu/registrar/4126#address
Class of 2021 graduates will receive their diplomas and diploma covers by mail 6-8 weeks after grades have been entered.
Please feel free to read more about diplomas at:  https://registrar.wisc.edu/diploma/
RESERVE YOUR CAP AND GOWN
In spring 2017, the gown designs were updated to include the University of Wisconsin–Madison colors and crest logo, providing both a pop of red among the traditional sea of black and an additional display of UW spirit that's recognizable to all. Read about the significance of the cap and gown. To ensure that your academic regalia is reflective of the new design, please place your reservation order through the University Book Store. You can view all the details at the University Book Store Graduation Timeline and reserve your regalia today!
Eligible undergraduate degree candidates can also order a stole from the University Book Store here. Honors candidates do not need to pre-order stoles; the University Book Store will receive a list of honors candidates in advance. Academic stoles, for the foreseeable future, will also now only be available as purchase only.
For further questions about attire, please refer to the University Book Store website for information regarding Commencement attire during these uncertain times. Call (608) 257-3784, extension 5924, if you have questions that cannot be answered from the information on the website.
VIDEO TRIBUTES
Share your message with the Class of 2021! Create a tribute video with one word that describes the class of 2021 and/or one wish you have for graduates as they start their next chapter. Get started here!
Send a video message directly to your graduate. With DIY Tributes, you can create an uplifting and commemorative video montage that includes friends and family members as a celebratory keepsake. Send your Grad a video here!
ATTEND IN-PERSON CEREMONY
The University of Wisconsin–Madison will celebrate the Class of 2021 graduates as part of special May ceremonies. Graduates are invited to join in-person, and families and guests can join virtually.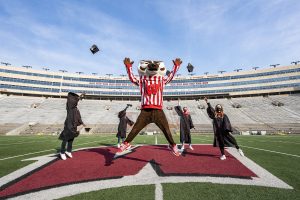 The in-person ceremonies are open to all Spring 2021 graduates. You must have a green Badger Badge to enter Camp Randall. Badger Wellness Ambassadors will be monitoring the entrances at the stadium to ensure everyone has a green badge to enter. There will be no exceptions.
Undergraduate Students should test at a campus testing site on either May 5 or 6 and receive a negative test result to ensure your Badger Badge is green on May 8. Testing sites will be closed on Saturday, May 8
Graduate and Professional Students should test at a campus testing site beginning the week of May 2, and by May 5 in order to receive a negative test result to ensure your Badger Badge is green on May 8. Testing sites will be closed on Saturday, May 8.
If you are a graduate attending the ceremony please review the Spring Commencement 2021 Carry In Policy
All graduates are required to complete an online course via Canvas in order to obtain the ticket necessary to attend the Commencement ceremony. Learn more here.
Please consult this map of Camp Randall to view Safer Badgers checkpoint locations and plan your travel route to and from the ceremony.
To learn more about viewing the commencement ceremony in-person please visit this website from the Wisconsin Union.
Click here to find the COVID-19 testing sites that will be open the week of commencement.
Parking is free at all campus lots, except for Lot 17, staring noon on Friday May 7th through Sunday May 9th at noon. Please consult this map of available lots.
PHOTO OPPORTUNITIES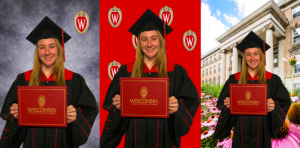 Upload a photo of yourself showing your Badger pride to this Virtual Photo Booth and choose from a variety of UW-themed backdrops. One digital photo will be provided for free to each graduate; additional photos will be available for purchase.
In-person photo opportunities will be available at Camp Randall the day of the ceremony (green badger badge required). Please refer to this map which includes the locations of photo stations where graduates can get their portrait taken. Additionally, graduates will receive a Class of 2021 branded face mask as a keepsake.