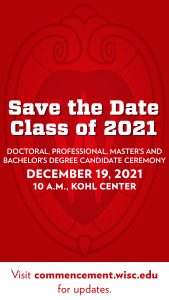 Save the date for the Winter Commencement Ceremony! Doctoral, Professional, Master's, and Bachelor's Degree Candidates will have their ceremony on December 19, 2021 at 10 a.m. at the Kohl Center. Download the save the date here!
Guests, family members and friends are welcome to attend. There is no ticketing for attendance and seating is general admission, first come, first served. Anyone needing accommodations should meet with Guest Services at Gate 1 for assistance. If you are a graduate in need of accommodations please email commence@chancellor.wisc.edu. This event is subject to public health guidelines which are subject to change at any time. Campus event policies, Kohl Center policies and carry-in procedures will be enforced in alignment with Public Health Madison Dane County. In regards to COVID-19, please consult PHMDC, the latest emergency order, CDC guidelines, and the Campus Event Guidelines under the COVID Campus Operations Response page. The Winter Commencement Ceremony will continue to provide guidance to changing public health guidelines.
Additional information is forthcoming, sign up for ceremony updates.