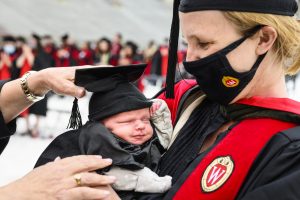 Students must apply to graduate to attend the ceremony and receive their diploma. Students who do not apply to graduate, will not see their name in the printed program. The deadline to apply to graduate to have your name appear in the Winter 2023 Commencement program is November 3, 2023.
If you wish to request diacritical marks, please email commence@chancellor.wisc.edu.
Visit the student center's instruction page and the Office of the Registrar's webpage  for detailed instructions on how to apply to graduate.  Master's and PhD students can find additional information on the Graduate School's "completing your degree" webpage.