For Winter 2023 Commencement, orders can be placed starting on September 18 until November 10 for an early Badger pricing. After November 10, you can place your order up until the day of commencement.
How do I order a cap and gown?
All graduates must wear a cap and gown to participate in the ceremony. Ensure your academic regalia reflects your intended degree by reserving through the University Book Store.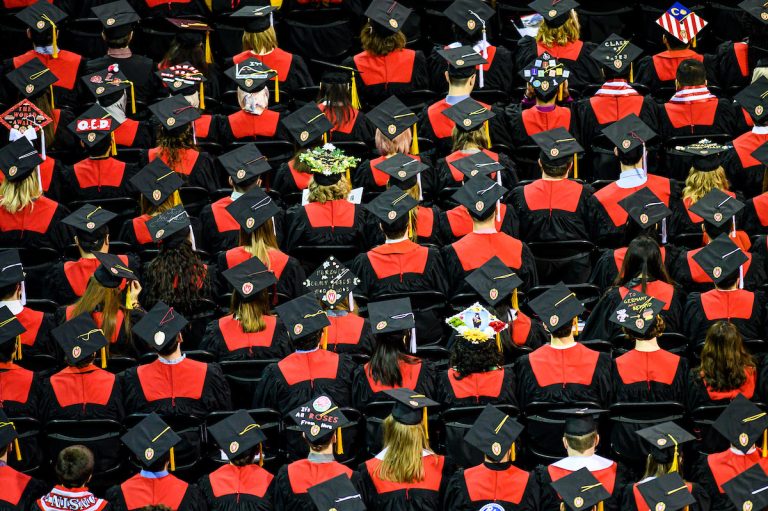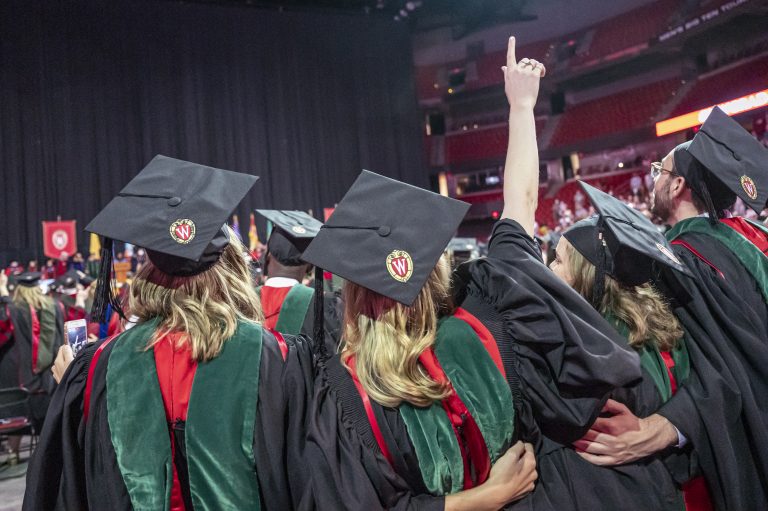 Where do I pick up and return my cap and gown?
Cap and gown rentals can be picked up at the University Book Store (711 State Street). All online orders not picked up by 2 p.m. on Saturday, December 16, will be transported to the Kohl Center for pickup there on Sunday morning. Academic attire (cap and gown) is required to participate in the ceremony.
Academic attire returns may be done during regular store hours at any University Book Store location. All returns must be completed by 7 p.m. Tuesday, December 19.
Questions about cap and gown rental should be directed to the University Book Store at 608-257-3784, extension 5924.
Learn more about the UW's academic attire
This is an accordion element with a series of buttons that open and close related content panels.
Caps and tassels
Candidates for the bachelor's degree wear black mortarboard caps with tassels of their course color (see Academic Colors below). Candidates for first degrees wear the tassel on the right side of the cap until the degree has been conferred. Candidates for the MD, Law JD, and SJD degrees wear an 8-sided black tam with a black tassel. Candidates for all advanced degrees wear black mortarboard caps with black tassels on the left side.
Gowns
Gowns represent the three principal levels of academic achievement. The bachelor's gown, symbolizing the first degree, is made of black material and has a closed front and long, pointed, open sleeves. Master's candidates wear a black gown with a closed front and long, closed sleeves. The gown worn by doctoral candidates has an open front with bell-shaped sleeves. Doctoral gowns are further embellished with velvet trim in the form of crossbars on the sleeves. In spring 2017, the gown designs were updated to include the University of Wisconsin-Madison colors and crest logo, providing both a pop of red among the traditional sea of black and an additional display of UW spirit that's recognizable to all. Marshals wear cardinal gowns with white bars.
Honors and distinctive scholastic achievement
Bachelor's candidates graduating with honors or distinctive scholastic achievement wear stoles, which are worn over the fronts of their gowns. Bachelor's candidates from an honors program wear white stoles with three cardinal bars. Candidates that have distinguished themselves scholastically by ranking in the top 20% of their school or college wear solid cardinal red stoles.
Deans' offices will notify students who are selected for Distinctive Scholastic Achievement and Honors. Stoles may be obtained at the University Book Store. Candidates will receive an indication of their achievement with a symbol next to their name in the commencement program.
Hoods
The hood, which has a velvet edging whose color is determined by the degree to be conferred (see Academic Colors below) and a lining in the color or colors of the institution (cardinal at Wisconsin), hangs to the back from the neck. A cord on the hood is fastened to a button on the front of the candidate's clothing. To avoid wearing the hood inside out, make sure that the velvet facing of the hood is visible under the chin and lies flat over the shoulders.
The bachelor's hood is rather short with a narrow velvet edging and is worn only by candidates who previously received the baccalaureate degree. The master's hood is considerably longer, has a wider velvet edging, and exposes more of the lining. The doctor's hood has a still wider velvet edging, wide panels at either side, greater length, and a fully exposed lining. There is no hooding ceremony; candidates wear the hood throughout the commencement ceremony.
Academic colors
Undergraduate tassel colors
College of Letters and Science
Bachelor of Science: Lemon
Bachelor of Arts: White
Journalism: Crimson
Music: Pink
College of Engineering
College of Agricultural and Life Sciences
School of Education
Athletic Training: Sage Green
Art: Brown
Art Education: Brown
Dance: Sage Green
Education: Light Blue
Educational Studies: Light Blue
Fine Arts: Brown
Health Promotion & Health Equity: Light Blue
Kinesiology: Sage Green
Physical Education: Sage Green
Rehabilitation Psychology: Light Blue
Special Education: Light Blue
School of Business
School of Pharmacy
School of Nursing
School of Human Ecology
School of Medicine and Public Health
Graduate and professional hoods
Doctor of Audiology: Sage Green
Doctor of Juridical Science: Purple
Juris Doctor: Purple
Doctor of Medicine: Kelly Green
Doctor of Musical Arts: Pink
Doctor of Nursing Practice: Apricot
Doctor of Occupational Therapy: Sage Green
Doctor of Pharmacy: Olive Green
Doctor of Philosophy: Blue
Doctor of Physical Therapy: Sage Green
Doctor of Veterinary Medicine: Gray
Educational Specialist: Sage Green
Master of Accountancy: Sapphire
Master of Arts: White
Master of Business Administration: Sapphire
Master of Engineering: Orange
Master of Genetic Counselor Studies: Kelly Green
Master of International Public Affairs: Teal
Master of Laws: Purple
Master of Music: Pink
Master of Physicians Assistant: Kelly Green
Master of Physical & Occupational Therapy: Forest Green
Master of Professional French Studies: White
Master of Public Affairs: Teal
Master of Public Health: Salmon Pink
Master of Social Work: Citron
Master of Science (any discipline): Golden
Master of Science Medicine (Biotechnology): Golden
Master of Science Medical Physics: Golden
Master of Science Comparative Biomedical Sciences: Golden